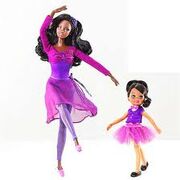 Zahara is a character in the So In Style range. 
Apperance and Personallity
Edit
Zahara is about six years old and is African-American with brown wavy hair and brown eyes. Her birthday is April 27th meaning she is a Taurus. She enjoys ballet and ice-cream. Zahara is confident, is good at making people laugh and a talented dancer. Graceful. 
Courtney
Chandra (big sister)
Janessa
Kiana
Julian