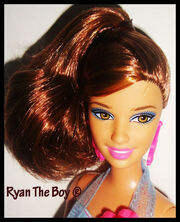 Teresa, first produced in 1988, is one of Barbara Millicent Roberts's best friends. She has starred in a few Barbie movies, espically Barbie: The Diamond Castle, the movie made to honor their 20-year friendship.
Offical Descriptions
Edit
Barbie: Cali Girl Beach Blast
My gang tells me I'm thoughtful and generous. I really like helping a friend with a problem -or a stray pet that needs a home! My saying: Care about others as much as yourself!
Apperance and Personallity 
Edit
Teresa is a hispanic teenager with light brown eyes and brown hair. She is kind and good-hearted, but often gets confused doing basic things. Teresa is interested in all things science-fiction and baking. Barbie and Teresa seem to do almost everything together, as they both enjoy surfing, voulenteering, animals, shopping and fashion. In Spy Squad, she is shown to be cautious and knows about machine stuff. 
Teresa and Barbie both go to Miss Kindsey's Ballet School. Teresa seems to be just a good dancer and singer as Barbie. 
Best Friends
Edit
Oh no! I forgot how to breathe! Oh, there it is... Whew.
Maybe his brain was taken over by mind-control aliens? What? I read it in Yakkity Yak!
Hey! You in there! Release Ken's mind!
I cancelled a yoga class for this! Or was it a yogurt class?