Headline text
Edit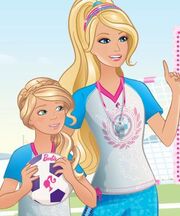 Stacie Roberts is Barbara Millicent Roberts's younger sister. She was introduced in 1990 and is formerly known as Tutti and Stacey, only spelled differently.
Apperance and Personallity
Edit
Barbie and Stacie look very alike. They both have the same skin tone and eye color. They are also both blonde, but Stacie is often seen with a much darker color. 
Stacie enjoys sports and mainly wears bright colors, especially blue. She is talented at all sports, but becomes frustrated when she finds that she is not good at horseriding. However, she later turns out to be good at it. Stacie is a tween. In Barbie Life in the dream-house she looks to be at least 11. In the Wee Three Friends line, Stacie was said to be 8 years old. Stacie is very Sweet, organized and commanding, espically in Barbie: Life in the dream-House. She is very nice too also in the 60s-2000s she had a twin named Todd and she was tutti Todd and tutti Stacie. She is said to love her sisters very much and she does. Stacie is very cooperative. She's seems great! In one episode, she is shown to hate baths but ends up falling in one. She often gives her Sisters their assignments.
Margaret Roberts
George Roberts
Courtney (2008) (Diamond Castle)
Janet (Wee Three Friends)
Lila (Wee Three Friends) (Midge's sister)
Hallie (Summers sister)
Annie (Summers other little sister)
Cherridy (Teresa's other sister)
On Barbie.com, Stacie states that she has lots of friends and couldn't believe how many of them could fit on their table in the caferteria at lunch. However, this may be sarcasm. 
Quotes by Stacie
Edit
"But not too slowly. Did I mention I was a natural jock?"
"Right! Skipper! You're on decorating duty!"
"You're right, Barbie, this rocks!"
"You don't have to be a baby about it."
"Chelsea's copying me!"
"Hugging? There's no time for hugging!"
"I'm going to need more clipboards!"