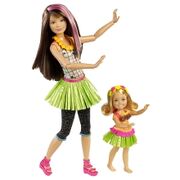 Skipper is Barbara Millicent Roberts 's sister and is the second-eldest in the Roberts family. She was introduced in 1964 with the product Skipper: Barbie's Little Sister. It was soon followed by Skipper Party Time Giftset and Barbie Wedding Party Giftset Skipper, Ken, Barbie and Midge.
Appearance and Personality
Skipper is assumed to be 14 to 17 years of age and has naturally dark brown hair. (Although, it is also suitable to say her hair is naturally blonde or ginger) In modern times, her hair is now dark brown, often with pink, purple or blue streaks. In Barbie's Vlog, Barbie says it was Skipper's idea.
Skipper is a shy and modern teenager. In Barbie: Life in the Dreamhouse: B Friends, She enjoys photography, writing, songwriting, singing, art, blogging, vlogging, inventing gadgets and all things technology. She says that she would like to be a director when she is older, as she often directs home movies starring her family and pets. She is also sometimes shown to be a techie at heart. Skipper often complains about "getting the hardest job."
Skipper faces several ongoing issues, such as the pressure of having a famous older sister. Her official description in Barbie: Life in the Dreamhouse is 'Out of all the sisters, Skipper is the one that often asks 'should I do the last thing that Barbie would do or the first?' This is shown in Barbie: A Perfect Christmas. She also feels pressure to fit in with her friends, seen in Barbie and Her Sisters in a Pony Tale, when Skipper is complaining about being on her aunt's ranch when all of her friends are at a Technology Convention. But she ends up winning dressage and making a friend in Jonas. 
Family
Friends
Skipper has no known current friends apart from Zoe. She danced with Jonas in Barbie and Her Sisters in a Pony Tale. Her discontinued friends are:
Courtney
Nikki
Tori
Chelsie
Reagan (Summers Sister)
Levana (Teresa sister)
Vivian (Raquele's sister)
Ray (Nikki's Sisters)
And many more.
Pets
Quotes
"I don't want this to be a 'Barbie-thing."
"Want to try my makeup-azooker? I just jumbo-sized it!"
"How come I always have the hardest joooob?"
"I'm doing this with my frieeends!"
Gallery
Community content is available under
CC-BY-SA
unless otherwise noted.