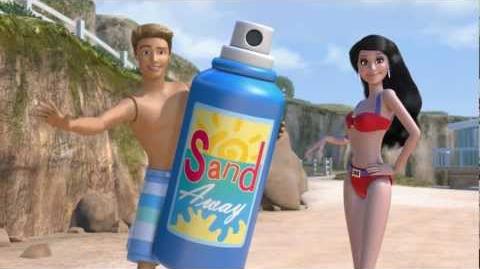 Sand Away is a bonus episode of Barbie: Life in the Dreamhouse.
Offical Description
Edit
Ouch! Sand in your joints! Use Sand Away today!
Characters
Edit
Transcript
Edit
-main title theme-
Ken: Hey, beach babes! Nothing better than oiling it up and catching some rays. But nothing's worse than the pain and embarassment of sand in your joints.
Raquelle: Ew... ah!
Ken: Now there's instant relief, with Sand Away! 
Raquelle: Hey! No more gritty, grindy discomfort! And it leaves my plastic looking oh-so-supple!
Ken: Looking good, Raquelle! And Sand Away now comes in new Malibu Beach Scent!
Raquelle: Mmm... Smells up-scale and trendy.
Ken: So don't let sand-clogged joints ruin your fun. Blow 'em out, with Sand Away!
Cameraman: HEY! Avaliable in stores everywhere.