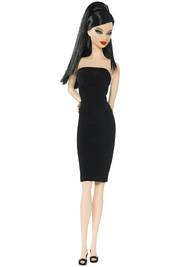 .Model No. 05 from Collection 001 of the Barbie Basics line was released in November 2009. For this article, we will refer to her simply as 'Model No 5'
This lovely doll was desgined by Bill Greening and has the Kayla/Lea facemould. She is wearing a sleeveless black dress with black heels and has straight black hair. Model No 5 also has brown eyes.
Offical DescriptionEditEdit
The little black dress just met its match -Barbie! Sleek and sophisitcated, each Barbie Basics doll wears a stylish little black dress, and features a beloved Barbie face sculpt.