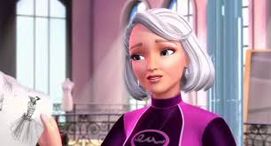 Millicent Rawlins is Barbara Millicent Roberts's aunt. She is nicknamed Millie in Barbie: A Perfect Christmas. 
Apperance and Personallity
Edit
Millicent is kind, a little bit opptimistic and a talented fashion desginer, singer and artist. She owns and runs a fashion house in Paris called Millicent's, with only one other employee, a young teenager named Marie-Alicea. Every few years, she flies to New York City. 
Millie has pale skin and grey hair, but her hair used to be brown, as you can see from her eyebrows. 
Family and Pets
Edit
So, Barbie, I tell you, if nobody likes what you do, does it make sense to keep doing it?
I've found the hobby for me! Stand-up-paddle boarding!
I'm picking up shop and moving to the country!
Oh, Alice...
What's happening with that boyfriend of yours? What was his name, Ken?
Parkour! French obstacle jumping! I've seen the young people do it all over town and I've been practising all day.