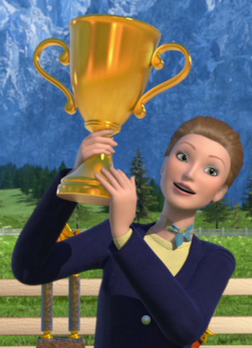 Marlene is the aunt of Barbara Millicent Roberts, Skipper Roberts, Stacie Roberts and Chelsea Kelly Roberts. 
Apperance and Personallity
Edit
Marlene has brown hair, green eyes and pale skin. She works at and owns Alpine Riding Academy. Marlene is talented at caring for horses, pets and her children. She is very friendly, cheerful and has a good sense of humour. 
Family, Pets and Friends
Edit
I may have to sell the academy.
Why are we hiding from Dash?
Ah. Your dream horse. Every rider has one.
We'd better get a doctor to look at your arm.