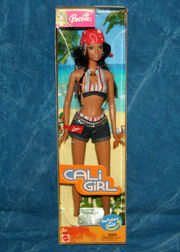 Lea is one of Barbara Millicent Roberts's friends. She is now discontinued. You can find out more about when she was released on the Lea/Kayla Facemould page.
Offical Description
Edit
I'm into fashion flair (definatly dramatic!) and playing sports -I rock at karate and volleyball! I love my crew and will do anything for 'em! My saying: Always look out -and stick up!- for your buds!
Apperance and Personallity
Edit
Lea is Asian and has brown eyes, pale skin and black hair. She is sporty, kind and confident.
Palm Beach
Rio de Janeiro
Fashion Fever
Amazing Nails
Beach Fun
One of the old Polly Pocket's best friends was called Lea, but she had short orange hair and was sporty.
It is known that Lea was in more lines too.
Alot of people have got mixed up with the 2012 and present Barbie dolls that has the Lea face mold but the doll is not name.