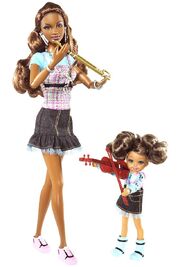 Kiana is a chracter in the SIS line.
Apperance and Personality
Edit
Kiana has culy, short hair. Her birthday is on the 3rd of December, making her a Sagitarius. She, like her big sis Kara, loves to play the violin. She also likes singing. Kiana is good at remembering things she knows Kara will forget. Cute.
Friends and Family
Edit
Big sisters are supposed to look out for little sisters, right? Well, sometimes it's the other way around! Last Spring, Kara had an orchestra performance at school. She practised like crazy to get ready for her big violin solo!
When the curitains opened, her heart started to pound. There wre so many people in the audience! What if she messed up?
That's when she saw her little sis. Kiana smiled at her and held up a homemade sign that said, "Good luck Kara!!!"
Her nervousess disappereared like magic! Kara played her very best. And she took an extra bow just for her little sis!