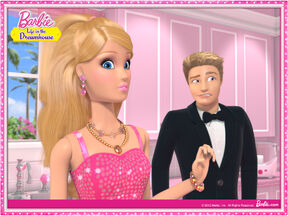 Kenneth Carson is the boyfriend of Barbara Millicent Roberts. He lives in the House of Ken, California, next door to The Barbie Dreamhouse and The Raquelle Mansion. 
Offical Description
Cali Girl Beach Blast
I never miss the chance to carve up a surf or check out a new band! Hopefully, I'm doing it with my buds, cuz they're super important to me! My saying: You gotta be true to you and your crew!
Barbie: A Fairy Secret
Funny, hip and super-cool -he can handle any situation... even being snatched away by fairies!
Best Friends
Allan (discontinued)
Stephan
Quotes:
Trivia
Ken and Ryan are shipped together as Kyan.
Gallery
Community content is available under
CC-BY-SA
unless otherwise noted.