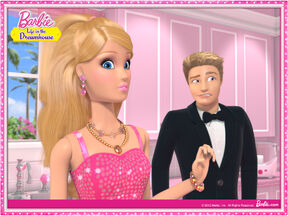 Kenneth Carson is the boyfriend of Barbara Millicent Roberts. He lives in the House of Ken, California, next door to The Barbie Dreamhouse and The Raquelle Mansion. 
Offical Description
Edit
Cali Girl Beach Blast
I never miss the chance to carve up a surf or check out a new band! Hopefully, I'm doing it with my buds, cuz they're super important to me! My saying: You gotta be true to you and your crew!
Barbie: A Fairy Secret
Funny, hip and super-cool -he can handle any situation... even being snatched away by fairies!
Apperance and Personallity
Edit
Ken is sweet, caring, sporty and helpful. He can surf, play soccer and ride a skateboard, among other things. He enjoys spending his time with his mates and his girlfriend.
Ken has blonde hair and fair skin. He is 17 years old and is of regular height. Ken knows whenever Barbie is in trouble. He calls this his 'Barbie senses.' He suffers from hyper-cuteness-sensativity-disorder. In his spare time, Ken enjoys inventing gadgets that to help Barbie.
Family and Pets
Edit
Ken's only known family members are his six-year-old little brother, Tommy. He [Ken] has a brown labridor named Hudson.
Best Friends
Edit
Allan (discontinued)
Stephan
A great place to show off one's man skills!
Great, I wasn't doing anything after the first one, anyway.
Don't you know how to change a tire?
I got it, Barbie!
Ken and Ryan are shipped together as Kyan.