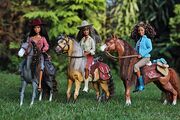 This set includes three horses -Baja, Summer's horse, Pacifica, Barbie's horse and Topanga, Lea's horse. They were released in 2005 and discontinued in 2008.
official Description
Edit
The Cali Girl™ dolls have the most realistic and highly detailed fully articulated horses. They even have sun-streaked manes. Each horse comes with shells, beads and a cool beading wand for the girl to add beads to the horse's hair or even their own hair. The assortment includes Baja, Pacifica and Topanga.