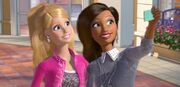 Are you looking for the So In Style / Barbie: A Fashion Fairytale character called Grace?
Grace 2.0 is a new character in Barbie: Life in the Dreamhouse.
Apperance and Personality
Edit
Grace is smart and enjoys science, playing Bomb Bomb Blaster (similar to Candy Crush) and is Barbie's latest BFF. She has dark brown hair and wears a grey jumper over a white t-shirt with a purple skirt. She is friendly and likes the same kind of parfait a Barbie.
Best Friends
Edit
Cashew combo! Cashew combo!
Barbie, do you have any mints?