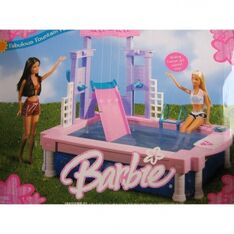 The Barbie: Fabulous Fountain Pool was a product that released in 2000 and was discontinued in 2001. You can find the instructions at http://service.mattel.com/us/productDetail.aspx?prodno=67390&siteid=27.
Offical Description
Edit
This colourful playset is perfect for afternoon pool parties! Barbie doll is bound to make a splash with this luxuriously desgined Fountain Pool, complete with real working waterfalls and a super slick slide. Hours of fun!
The doll on the left is wearing the Beach Cali Girl: Barbie outfit, but the doll is different.
Dolls are not included.