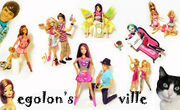 Egolon's Ville is a series of 46 videos (as of 10 May 2014) on YouTube created by a Barbie Collector named Eva, who refers to herself as 'Egolon' or 'Mommy.'
About Egolon
Edit
Egolon, whose real name is Eva, lives in Madrid, which is the capital of Spain, with her husband and baby boy. Since first becoming pregnant, Eva has retired from making Egolon's Ville but still posts on Flickr sometimes and says she may continue once her son is older.
Eva loved Barbie's as a child, her first being the Magic Curl Barbie and owned lots until her parents decided that it was time to give her dolls away to the neighbours. Eva held onto the few dolls and accessories she had left and treated them "like gold." Her favourite series since she began collecting dolls as an adult are the 'Fashionistas' because of their fully articulated bodies and has over 200 dolls. She is also a fan of the Fashion Fever range.
Eva's favourite doll is Cutie, but she also likes Sassy, Wild and Sweetie. She says she always goes to the Barbie section of a mall first. Eva has Barbies, Bratz, Livs, Monster Highs and other various toys such as figures, stuffed bears and trolls.
Offical Show Description
Edit
Hope you enjoy the crazy Barbie Fashionista Adventures!!!Barbie Fashionistas are all funny, mischievous, imaginative, hiperactive, happy crazy dollies.They love danger and, although they all have a good heart, they don't mind if they have to do something "evil" to get what they want or to have fun.They are friends, but above all this, they are Fashionistas, which means that they love their purses as much as their own lives!
Characters
Edit
Sassy
Bubjura
Jack
Angelica
Ghoulia
Ken Toy Story 3
Barbie Toy Story 3
Hayden
Alexis
Glam
Artsy
Cutie
The Troll Family
Fashion Queen
Ken
Willie & Maya
"Sing" Oddisey
Time for a Beddy
The Treasure Map
Ken's Revenge
Purses Return
Beauty Session
Hottie in Love
Ken Sporty
Magic, Rescues and... Sassy
Chapter 9's Consequences
Cutie's Tummy
The Mission
Stowaways on Board
New Neighbours
Egolon's Ville meets Paprihaven
Halloween
Arrivals
A Monster Called Jealousy
Ken's Plan
Christmas
St. Valentines Day
Ken Strikes
Easter Eggs
The Parcel
Granny's Recipe
Nothing to Wear
Bad Boys
Ghoulia for President
Stowaways on Board... Again!
The Dragon Stone
Scary Stories
"Cleaning" Time
"Cleaning" Time Returns...
Santa's Helpers
Christmas Presents
"Fashion" Emergency
St. Patrick's Day
"Fashionista" Queen
The Fig
Beach Time
Body Changing
The Dragon Stone Returns
Coins
Cinema Session
A Visit for Christmas
Rumors
The Parcel
Easter Eggs
Ken Strikes
St. Valentines Day
Cutie-Sporty-Bubjura: A Love Triangle
Christmas
Ken's Plan
Mini-Chapters
Edit
News from Egolon
Chocolate Cookies
The Guide
Easter Bunnies
Thank-You Video from The Gang
Captain Jack Sparrow
The Ice Cream
The Pool
A Visitor at Home
Sassy-Hottie: A Love Story
Tutorials
Edit
Wardrobe for Dolls
To Close Dolls Eyes
To Straighten and Curl Dolls Hair
Have you seen every episode?