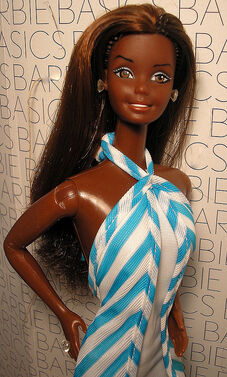 Christie O'Neil is one of Barbara Millicent Roberts's former friends. She is Nicole O'Neil's sister and released in 1968. She was discontinued in 2005, sometimes said to be 2006. Christie was often seen alongside Barbie and Teresa. She can be featured in differant outfits and with differant objects. 
Offical Description
Edit
Cali Girl Beach Blast
I'm a total people person -I dig making friends anywhere! And I'm always up for a new challenge, whether it's a cute guy or a ten-foot wave!
Apperance and Personallity
Edit
Christie almost exactly like Nikki. Christie is sporty, friendly and likes the colour green best.
Family and Friends
Edit
Nikki (sister)
Barbie (former best friend)
Teresa (former best friend)
Ken (former friend)
Steven (former friend)
A few of Christie's dolls include:
Barbie, Teresa and Christie 'sang' the Think Pink! album on iTunes.
Christie is said to be Steven's former girlfriend.