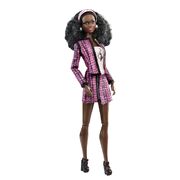 Chandra is a character in the So In Style range.
Apperance and Personallity
Edit
Chandra is usually seen with brown, wavy, shoulder-length hair but in this doll on the right, she has curly hair. Chandra enjoys drama and history. Her birthday is on the 3rd of July meaning she is a cancer. Chandra is confident and good at making people laugh.
Friends and Family
Edit