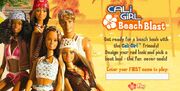 Cali Girl Beach Blast is a former dress-up game on Barbie.com, featuring the Cali Girl Beach Blast dolls. This game can now be played at Mattel.com. 
Instructions
Edit
1. Go to http://www.mattel.com/games/cali-girl-beach-blast
2. Type in your first name
3. Select the doll you want to dress up
4. Choose from a range of different hairstyles, jewellery, sunglasses, hats and bikinis.
5. Choose your favourite activity, food and pet from the selections provided.
6. Choose the doll you'd like to hang out with.
7. Select 'go to the party' after reading your doll's conversation.
8. Select 'print' or 'play again.'