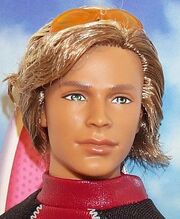 This doll was first available in 2005 and is now discontinued. He is part of the Cali Girl line and in the Cali Girl wave. He has a pink surfboard.
Official Description
Edit
It's another endless summer and Barbie® doll and friends head off for sun, surf, and sea at one of their favorite beaches. Cali Girl™ dolls are sporting the ultimate beach styles wearing board shorts, fashion beach tops and cool jewelry. Barbie®, Christie®, Lea®, Teresa® and Summer® look super hip in their every day California beachwear and Blaine® and Steven® look great too. The dolls all have gorgeous suntanned "skin" and are scented like suntan lotion. Sunglasses complete the look. Dolls have newly sculpted feet and the girls have painted toenails, too.