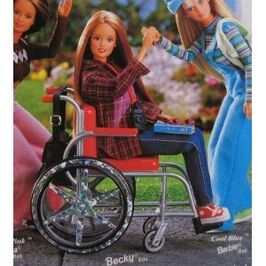 Becky -I'm the School Photographer is a doll that released in 1998. You can find the instruction manual at http://service.mattel.com/us/productDetail.aspx?prodno=20202&siteid=27.
Offical Description

Edit
This blonde, beautiful and highly collectable, Becky I'm the School Photorapher is one of Barbie doll's school friends. She is handicapped and in a wheelchair, but that doesn't hold her back. She is the school photographer, and travels to all the school events with Barbie and the gang, to take pictures for the yearbook.
The box art featured 'Cool Blue Barbie' doll.