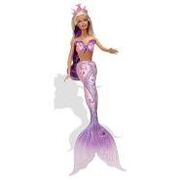 Magical Mermaid Dolls were part of the Fairytopia range, but were not seen in any of the movies. The dolls consisted of Kayla, Barbara Millicent Roberts and Christie O'Neil. They were released in 2004. You can view the instructions at http://service.mattel.com/us/productDetail.aspx?prodno=C0629&siteid=27.
Description on Packaging
Edit
The description on the back of the packaging states:
If you're pure of heart,
kind in spirit,
and truly believe in your wildest dreams,
you will find your way to Fairytopia.
There you'll find the magical creatures 
of your fantasies.
What are you waiting for?
Journey to Fairytopia.