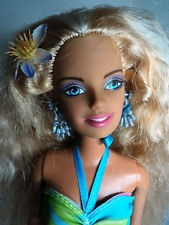 This doll was available in 2005 and is now discontinued. It was part of the Cali Girl line, Aloha! wave.
Official Description
Edit
Aloha Cali Girl™! The dolls cool enough to live in California and vacation in Hawaii. They look hot in their trendy Hawaiian inspired outfits and hair. Cool hair play features to create awesome looks! Comes with a hair twisting mechanism, eight hair clips, hair beader, five glitter hair extensions, four floral hair accessories and a cool travel activity scrapbook.