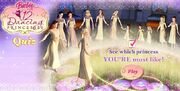 12 Dancing Princesses Quiz is a former quiz game on Barbie.com, featuring the 12 Dancing Princesses characters. This game can no longer be played by going to the original Barbie website. 
Instructions
Edit
1. Go to http://origin.barbie.com/activities/fantasy/princess/12dp/
2. Click on the 'fantasy' section in the header.
3. Click on the 'fairytale' bar
4. Click on the icon with the picture of Princess Genevive.
5. Click on Princess Kathleen.
6. Click 'play' and answer the questions as they pop up on the screen.
^^ page not found... childhood is gone
Possible Results

Edit
Aquamarine - Forget Me Not - Painting Pictures - Kathleen
Aquamarine - Forget Me Not - Playing Musical Instruments - Ashlyn
Aquamarine - Forget Me Not - Reading Books - Courtney
Aquamarine - Forget Me Not - Walking on Stilts - Hadley
Aquamarine - Forget Me Not - Riding Horses - Blair
Aquamarine - Forget Me Not - Reading Books - Courtney
Aquamarine - Forget Me Not - Collecting Teddy Bears - Courtney
Aquamarine - Forget Me Not - Collecting Insects - Janessa
Aquamarine - Forget Me Not - Playing Badmington - Courtney
Aquamarine - Forget Me Not - Playing Croquet - Delia
Aquamarine - Forget Me Not - Dancing Ballet - Genevive
Aquamarine - Forget Me Not - Caring for Animals - Fallon
Aquamarine - Forget Me Not - Doing Cartwheels and Summersalts - Janessa 
Aquamarine - Sunflower -Painting Pictures - Delia
Aquamarine - Sunflower - Playing Musical Instruments - Janessa
Aquamarine - Sunflower - Reading Books - Courtney
Aquamarine - Sunflower - Walking on Stilts -Delia
Aquamarine - Sunflower - Riding Horses - Delia
Aquamarine - Sunflower - Collecting Teddy Bears - Lacey
Aquamarine - Sunflower - Collecting Insects - Janessa
Aquamarine - Sunflower - Playing Badmington -Edeline
Aquamarine - Sunflower - Playing Croquet - Delia
Aquamarine - Sunflower - Dancing Ballet - Janessa
Aquamarine - Sunflower - Caring for Animals - Janessa 
Aquamarine -Sunflower - Doing Cartwheels and Summersalts - Isla
Aquamarine - Narcuiss -Doing Cartwheels and Summersalts - Janessa
Aquamarine - Narcissus - Dancing Ballet - Genevive
Aquamarine - Narcissus - Caring for Animals - Fallon
Aquamarine - Narcissus -Playing Croquet - Hadley
Aquamarine - Narcissus - Playing Badmington- Janessa
Aquamarine - Narcissus - Collecting Insects - Janessa 
Aquamarine - Narcissus - Collecting Teddy Bears - Hadley
Aquamarine - Narcissus - Riding Horses - Janessa
Aquamarine - Narcissus - Reading Books - Janessa
Aquamarine - Narcissus - Painting Pictures - Hadley
Aquamarine - Narcissus - Walking on Stilts - Hadley
Aquamarine - Narcissus - Playing Musical Instruments - Janessa
UNCOMPLETE